"For those who don't already know, our friend Keteri was involved in a car accident Friday and did not survive. Tonight's chat is dedicated to her. I won't be formally hosting this meeting, instead I'd like us all just to take this time to talk about and remember her."

That is how the #Disabled IRC meeting opened on Wednesday, April 29. We had learned of Ket's unexpected death just four days earlier; some of us were still in shock.

Everyone remembers Ket as a beautiful, caring person who always put her friends ahead of herself. "More of us need to be like Ket," says Mimi. "She cared about other people and tried not to dwell on her own problems." Mooooooo adds, "No matter how much she was hurting, she put it all aside when someone else was in need."

Fence, who was lucky enough to have met Ket in person, shared with us some of his memories. "I walked in, and there stood this beautiful girl. She walked up to me, asked if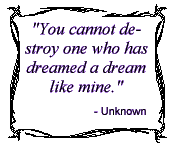 she could touch my face... and hugged me. That moment meant life to me." He also remembers the many times he saw her in the channel. "I would see her come in here many times, say nothing of her pain, which at times, was great. I would see her be concerned over someone, and truly try to help."

Ket was also known for bringing a lot of fun and laughter to #Disabled. "We had a great time joking around," Mimi remembers. "I'll miss that." Fence adds, "I remember I came in here one time and she had the room dancing on tables."

Many of Ket's friends knew that she wasn't living the happiest life in the world. We also knew that she always put her pain aside to help others, and to have fun with her friends. She was a strong person, and I believe that her death was God's
way of rewarding her for her strength, and releasing her from all she had to deal with. I cry because I know that I, as well as everyone else, will miss her. But I know that she is in a much better place, and she is no longer in any kind of pain. For that I am happy.

Keteri, wherever you are, we will never forget you.

Table Of Contents

Code of Conduct
Be sure to read the new rules for the #Disabled channel and mailing list.

Member Profile
Meet this month's featured member, Debi Hoggan.

Readers' Voice
Participate in this month's demographics poll and help us to find out more about our readers.

Tiny Tidbits
Recipes, writers, surveys and rules.

Feedback Form
Send us your comments, criticism and suggestions for future editions.