Allow me to introduce Debi Hoggan, from Utah, USA! Debi is a 47 year old wife and mother. She is also a volunteer for the Utah state governor's ADA council, a credited artist and writer, and also a professional clown. Seriously! "We do a few children's parties," says Debi, "but the majority of clowning we do is at professional parties and open houses."

Debi has been married to her husband for 25 years. Their six children range in age from 13 to 24, and they also have two grandchildren. "They [the children] are a real thrill of my life, and keep me being young," Debi tells us. "Of course, my dear husband keeps me going too."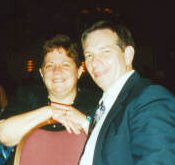 Debi loves doing "anything that will add knowledge to my life." She home schools her two youngest children, and is always searching the web or studying books to add to her own education. She also enjoys painting and designing popup scripts for the internet.

Debi has fibromyalgia, epilepsy, residue from a mild stroke 12 years ago, and is now being tested for lupus. Another reason for coming to #Disabled is her daughter,
who is an achondroplastic dwarf with several problems. "She is a true and loving inspiration," says Debi.

When asked to summarize her life, Debi answers, "Happy! I am a very happily married woman with some extra-great kids. I often look at the few gray hairs in my head and thank the lord for giving me the silver lining to help me grow in life." She also adds, "I only wish others would be as happy as I am! Even when times seem terribly bleak, it only lasts a short while. My husband has taught me to love and live life to its fullest."